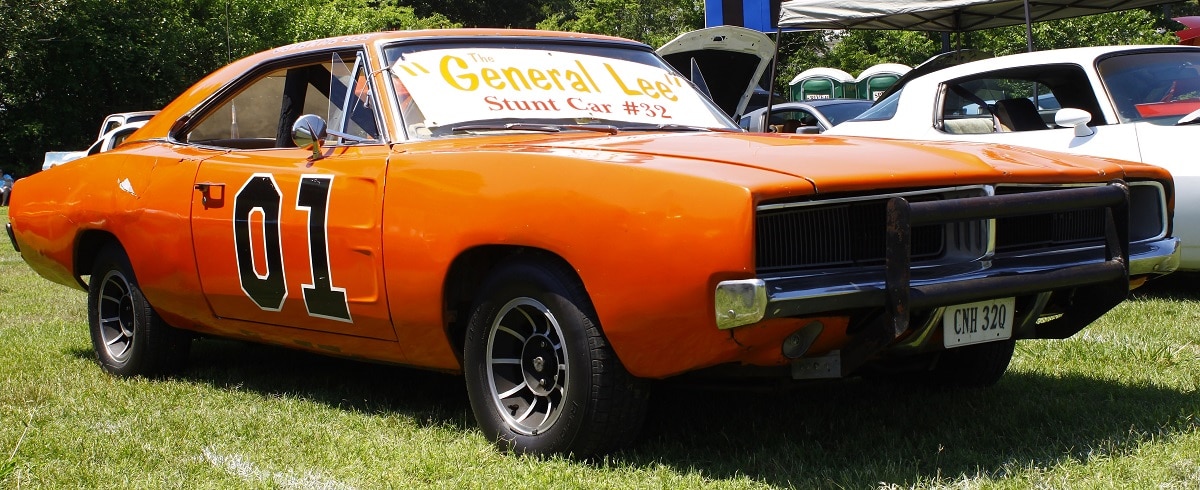 Is there anything better than watching your favorite car on the big screen in an action packed movie? We may be biased, but we think not!
As major car enthusiasts, we're always paying particular attention to the cars in film. While there are many memorable cars in movies, there are a few that stick out to us. Take a look at some of our favorite movie cars of all time.
The Dukes of Hazard: Dodge Charger
The Dodge Charger is known to be super cool, sporty, and totally fast, so it's only fitting that the 1969 Dodge Charger was depicted in the 2005 Dukes of Hazard remake.
Let's face it: It wouldn't be Dukes without the orange Charger sliding around corners! We loved the 1969 Dodge Charger in the Dukes of Hazard. There were also some great scenes of the Dodge Charger playing a major role in some action packed scenes.
Vanishing Point: Dodge Challenger
The 1970 Dodge Challenger made an appearance in the hit moving the Vanishing Point. The 1960s and 1970s were major eras for pony cars and this film solidified the 1970 Dodge Challenger's reputation. As Kowalski tries to drive from Denver to San Francisco in less than 15 hours, there were some great stunts and crazy scenes. The Dodge Challenger even launches over a gully!
The Fast and The Furious: Dodge Charger
If there is one mega movie series that pays the most homage to the top vehicles on the market, it's The Fast and the Furious. In 2000, the Charger took to the big screen and was used as a racing machine for Vin Diesel. The 1970 Dodge Charger exudes cool and is extremely fast, so it's no wonder it was chosen as a drag racing vehicle.
The Dodge Charger made yet another appearance in Furious 7. You may remember the Charger launching from the back of a transport plane at 30,000 feet and skydiving to the ground.
The Green Hornet: Chrysler Imperial Crown
Although the Chrysler Imperial Crown depicted in the Green Hornet was extremely fictional, it was super memorable. The Chrysler Imperial Crown maintained much of its original body, but included .30 caliber machine guns and flame throwers. Although the Green Hornet took a lot of creative freedom when redesigning the Chrysler Imperial Crown for the movie, we still think it was ultra-cool and imaginative.
Shop for your Chrysler or Dodge at Woody Folsom CDJR of Baxley
With tons of speed and a cool exterior, it's easy to see why so many movies chose Chrysler and Dodge vehicles.
If you are looking for a super cool Chrysler or Dodge vehicle, visit Woody Folsom CDJR of Baxley! From the Dodge Challenger to the Dodge Charger, and more, we truly have it all. Browse our extensive inventory of new and used Chrysler, Dodge, Jeep, and RAM vehicles to find the car of your dreams.