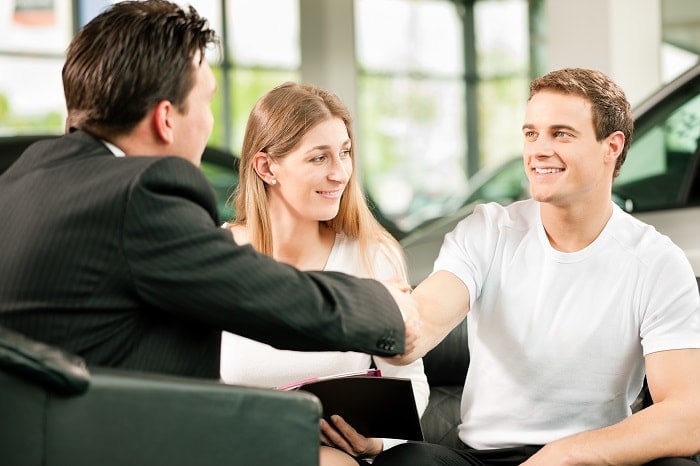 Although buying your first car can be an exciting time, it can be a bit overwhelming. From navigating the intimidating financing process, figuring out your budget, and finding the car that meets your needs, there's a lot that goes into buying a car.
Fortunately, Woody Folsom CDJR of Baxley has helped many first time car buyers navigate the car shopping process. Here are some of our best tips for first time car buyers.
Know your Credit Score
Prior to shopping for a new or used vehicle and qualifying for a loan, you'll want to be sure you know and understand your credit score. Your credit score and credit history will directly impact the auto loan rate you receive.
Dealerships and lenders will also use your credit score to determine if you're able to make the monthly payments on your vehicle. In general, many lenders want you to have a score in the good range to get a loan, somewhere above the mid-600s. If you have no credit at all yet, Woody Folsom CDJR of Baxley will help you navigate the financing process and help you find a vehicle you love at a price you can afford. Don't let bad credit or no credit stop you from contacting us.
Figure out your Budget
The most important step in the car shopping process is figuring out your budget. This will help you narrow down your options and figure out your buying power.
There are two very important figures that will help you figure out how much car you can afford: your down payment and your monthly payment.
If you are wondering how much car you can afford, you may want to begin the financing process. By getting prequalified for a car loan through our secure form, you can determine the maximum you can finance, so you can shop with confidence. Get started with the financing process today.
Make a List of your Vehicle Needs
When it comes to finding the car that meets your lifestyle demands, it's important to take inventory of what you need in a vehicle. Although it may be fun to have a convertible, it's probably not practical. Ask yourself what type of car you'll need (pickup truck, SUV, or sedan for example) and figure out what features are important to you. If you're not sure, our team members can help you decide which features may be beneficial for your unique lifestyle.
Considering a Cosigner
If you are a first time car buyer, you may need to utilize a cosigner, especially if you do not have credit established yet. When you use a cosigner, you'll still be responsible for the monthly payments, but you'll use the creditworthiness of the cosigner as a "back-up." If you fail to make payments on your loan, your cosigner would be responsible for the payments. When choosing a cosigner, you'll want to ask a friend or family member who has a strong credit score and stable work history.
In many cases, cosigners can result in your auto loan being approved at a lower rate. It's also a great way for first time car buyers to establish credit and improve their own credit score.
Start Car Shopping at Woody Folsom CDJR of Baxley
Are you ready to buy your first car? We're ready to help! Contact the experts at Woody Folsom CDJR of Baxley to start the car shopping process. From start to finish, we focus on helping first-time car buyers in Waycross, Baxley, and the surrounding areas have a stress-free car shopping experience. Browse our Chrysler, Dodge, Jeep and Ram vehicles today or contact us if you have any questions.