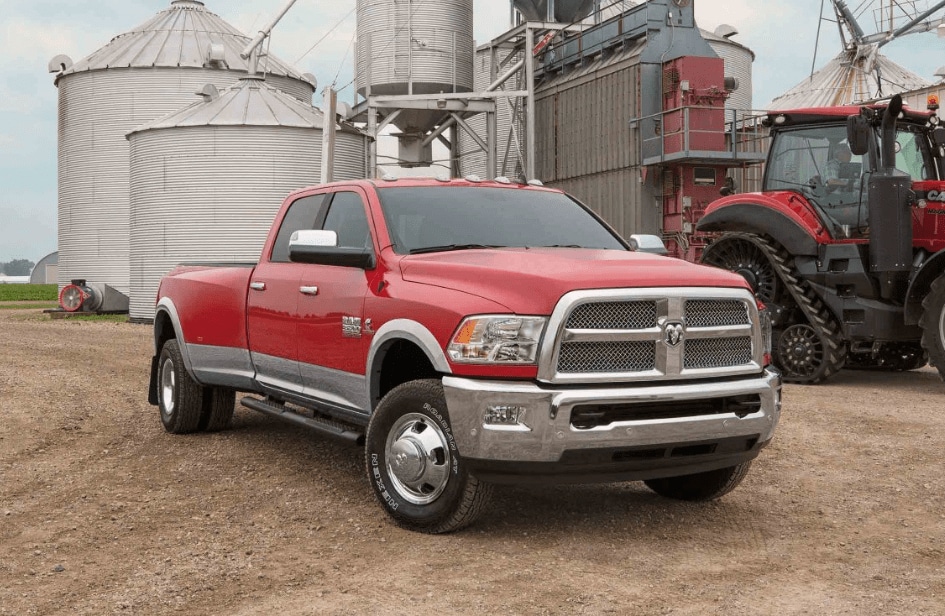 There are trucks, and then there are Ram trucks–burly, tireless, hard-working partners in the long day of a farmer. From predawn chores to a late-night town haul and back, Ram trucks are there for our farmers in and around Baxley, Fitzgerald, & Statesboro. Ready to go all day, every day; Ram pickup have proven to be an invaluable assistant for getting the work done that needs to get done—when it needs to get done.
These trucks are designed for people who haul hay, wrangle cattle, and harvest crops to the tune of a hundred and twenty hours a week. They're designed and built to serve farmers and their families; and it's easy to see why farmers love Rams. Continue reading for a few reasons why farmers love Ram trucks.
Ram Trucks Offer Unparalleled Strength
The cornerstone of the Ram pickup truck is strength. Even the lightest Ram pickup model
, the
Ram 1500,
o
ffers best-in-class towing capacity. Farmers can take their pick between the legendary HEMI V8 gas engine or a Cummins Diesel I6 for unbeatable torque and horsepower. Most importantly, you can be confident your truck is the support vehicle you'll need for every task—great or small.
Ram Trucks Offer Superior Finesse
Just as a farmer needs strength as well as kindness and finesse, Ram trucks prove you can have the best of both worlds. These trucks can tow, and they can also easily round corners or back up with proximity alerts so you don't scratch a thing, truck or otherwise.
Furthermore, Ram cabin interiors are the most luxurious truck interiors on the market. They are comfortable, spacious, and ready for a family trip. It's simple. Sometimes your Ram truck hauls dirt, and other times your truck will haul your most precious belongings.
Ram Trucks Are Built for the Long Haul
Ram's high towing and torque numbers also come with exceptional fuel mileage. Ram leads other trucks in value in countless arenas, and duration to haul is one of them. And this unwavering durability doesn't just go for smooth highway driving; Ram trucks are engineered to deliver outstanding performance in the toughest of conditions. Rain, drought, mud, or snow, Ram trucks are ready to work a farm all day, any day.
Ram Trucks Offer Advanced Safety Features
Farmers take their families places in their Rams, so Ram engineers also provide the greatest possible safety for pickup trucks. With over 100 safety & security features, Ram pickups stand on decades of safety and security testing and improvement. Some of the most outstanding safety features, include:
Airbags,

Advanced braking systems

Strong steel frames

As well as additional support like Roadside Assistance and theft alarm notifications.
Make Woody Folsom CDJR your Ram Truck Dealer
As a farmer, you work hard every day. You deserve a truck that works as hard as you do. You deserve a new Ram 1500, Ram 2500, or Ram3500. Regardless of your payload or towing needs, the experts at Woody Folsom CDJR in Baxley will match you to the perfect Ram truck.
Contact Woody Folsom CDJR today at 888-283-8230 or complete our online contact form.